Your Self-Service Basics
For a basic introduction to Your Self-Service, you can take a guided tour here.
Access Your Self-Service from a computer or mobile device.
Download Your Self-Service Access (en español) with reminders for log in basics.
Log In to
Your Self-Service
The Infor Sign In page displays.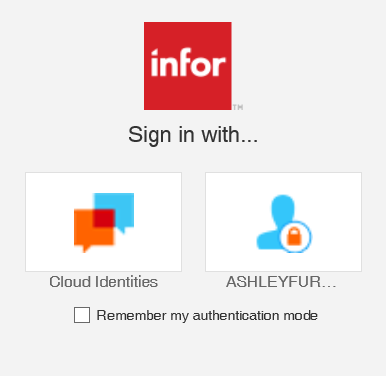 Infor Sign In Page
STEP 2

Click the appropriate

login link

:
If you provided a personal email address to Ashley, click the

Cloud Identities

link.
If you have an Ashley-provided email address (@AshleyFurniture.com), click the

ASHLEYFUR 

link.
STEP 3

If you clicked the

ASHLEYFUR 

link, use your

network credentials

to log in.
If you clicked the Cloud Identities link, the Infor page displays.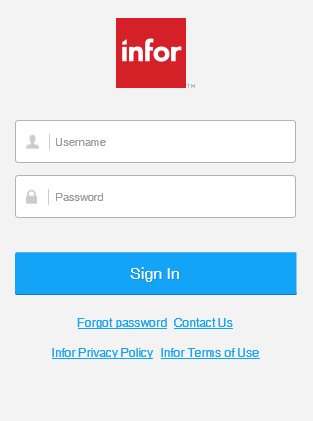 Infor Page
STEP 4

In the

Username

field, type your personal email address.
STEP 5

In the

Password

field, type your password.
STEP 6

Click the

Sign In

button.
The Employee Home page displays.
STEP 7

Use the

My Applications

menu to navigate to the appropriate

role

.
Navigation
This section covers basic navigation of Your Self-Service, including the Quick Links, side menu and top menu.
Quick Links
For more detailed information, read more about Quick Links and watch this video.
Notifications, Inbasket and Actions
Your Self-Service has a few ways to show you what you've done and what you need to do. To learn more about each of these areas, watch the video:
Sign Out of
Your Self-Service
When you're done in Your Self-Service, you need to sign out. Be sure to sign out and completely close the app or browser each time you finish in Your Self-Service. Watch the video here: